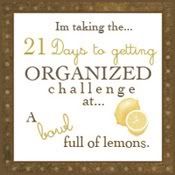 I was blog hopping the other day and stumbled onto A bowl full of lemons Blog and I subscribed right away! I saw that she had done a Organized challenge in 2011 and thought I would tackle it this month. Already a week into it, but last week was kinda hectic. Although I'd love to organize the house in 21 Days, I think I'm going to make it a little more realistic for my life and do it in about 40 days, hopefully less. So, I'm basically going to take two days to finish each challenge. I haven't gone through all of them, but I know some of them will only take one day, where as others will take two days. I'm not going to push myself, but I do want it done well before Yvette gets out of school for the summer. I have already been working on getting organized. Yesterday I reorganized 1/2 of the kitchen cabinets and I have reorganized under the sink, but gotta redo that cus my mom took some items out.
Anyone want to join in? Leave a comment on what you did or a link to your post and I will add it in the "Featured" section of the next challenge to showcase how we're doing! Feel free to also share photos on my fan page,
The Mami Blog
. I'm just going to keep the daily challenges the same as ABFoL to make it easier on me... LET'S DO THIS!
Day #1 Challenge (Organizing the "junk" drawer)
How will this work? I will post the challenge in the morning (late, but already have parts of Day 1 complete) and will have all day to complete it and will post in the evening, my progress and if I will continue the following day. If I complete it, I will post the next days challenge that night or the following morning (as time permits)
Here is your challenge(I started out simple)…
1. Find a drawer, any drawer (preferribly your junk drawer), and

take a picture

as it looks right now. No cheating here. We want to see chaos!
2. Now

empty the contents

into a large box. ALL OF THEM! (Trust me, the box will be much easier than the counter… you can transport it).
3. Get a soapy washcloth and

wipe the drawer clean

.
4. Now, go

collect some of those organizing containers that I had you stash away and place them in the drawer

. The more containers you have, the more organized you are going to stay!
5.

Set up your bins & trash can near you

: one bin for "keep", the trash can bin for "toss", and the "donation box" you set aside earlier in the week.
6. Get your box of drawer contents, take a seat at the table, and

start purging.

Keep ONLY what you have used in the last 3 months. Toss everything else… either in the donation box or the trash.
7. After you have gone through the whole box, you can

start organizing

! This is the fun part. Try to keep like items together. Isn't organizing fun?
8. Now

take another picture

and give your self a pat on the back! Way to go… you completed challenge #1.