Dear Blogger Friends,
Tuesday, January 22nd will mark the 40th anniversary of Roe v. Wade, which legalized abortion in the United States. Since that tragic day in 1973,
over 50 million children have lost their lives to abortion
.
Since the legalization of abortion, thousands of life-saving Crisis Pregnancy Centers have sprung up across the country. These centers offer support and care for mothers (and fathers) facing crisis pregnancies. The
caring workers and volunteers
at the centers help the parents make a good decision for their child, starting with the choice of life.
Crisis Pregnancy Centers also offer post-abortion counseling. If you or someone you know has had an abortion and are in need of counseling, please your local center.
In memory of the 50 million plus children who have lost their lives in the horrible act of abortion since 1973, let's show our support of the Crisis Pregnancy Centers and also observe a blogger day of silence.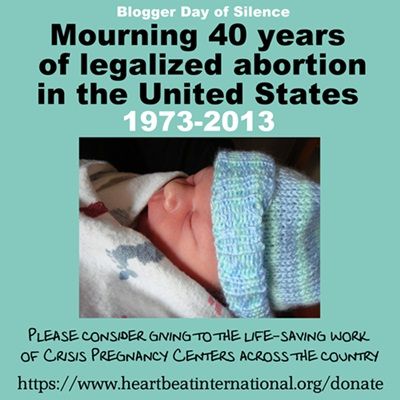 "Heartbeat International currently serves over 1,400 affiliated pregnancy help centers, maternity homes, and non-profit adoption agencies in all 50 states and in 47 countries."
source
Will you join with other bloggers for a Blogger Day of Silence Tuesday, January 22nd as we mark the 40th anniversary of Roe v. Wade? You can join in by posting the above button on January 22nd. If possible, please let the button be all you post that day as we remember the lives lost to abortion.
Thank you for taking a stand for the most innocent of life... the unborn.
In defense of the babies,
Your Fellow Blogger
Please feel free to copy and paste this post onto your blog if you would like.
===============================
I have something I'd like to post about during that week.... I am on the fence about it.... Should I post it?
Also, I'd like to share some stories/feelings about mother's who have aborted, have had the opportunity and thought about aborting and those who didn't abort but think it may have been better. Email me and of course, stay anonymous if you wish (Subj. Row v. Wade)