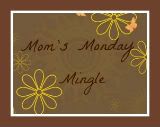 Who doesn't love a blog hop?! I do! I do! I haven't joined one in a while, so here we go!
I'm linking up with Naptime Review, At Home Take 2, Little Becky Homecky and @Home Take 2!

What do moms mingle about? I actually HATE to mingle. But I'm working on it. For example, if someone trys to chit-chat me at the grocery store, I'm nice, but I try to just run the other way. Is that bad? Am I anti-social? I've always wondered if there was something WRONG with me. I've never really had any girl friends, except for high school, only guy friends. Now that I'm a mommy I still don't have those "go-to" gals that I can talk to. I just talk to my husband, isn't that what he's there for?

Anyways, I've also tried starting my own play group/coupon group, and a few other groups but we only have a few moms show up and then they never come back. It's just so annoying. Anyways.... how's that for Mom's Monday Mingle #2?
Any tips on how to make Girl Friends?
You can check out my
Facebook
Page,
Twitter
,
Youtube
to mingle and chat usually any time and look forward to mingling next Monday!
Oh! And check out my latest giveaway
HERE
and another Giveaways coming SOON!
==============================
Join our

1st

ever Blog Hop for Moms. Moms show off your blog and connect with new followers. Great way to increase your audience and traffic. NO RULES just please follow each host and leave a comment so they can follow back! Enjoy Mom's Monday Mingle! Feel free to grab our button and help promote our hop! Spread the word. The more at the mingle the better!
Link up and meet your hosts!
1. http://naptimeshopper.blogspot.com/
2. http://www.athometake2.blogspot.com
3.

Www.littlebeckyhomecky.com