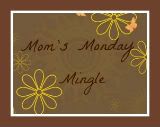 Who doesn't love a blog hop?! I do! I do! I haven't joined one in a while, so here we go!
I'm linking up with Naptime Review, At Home Take 2, Little Becky Homecky and @Home Take 2! I thought I would take the time to say HELLO!
HELLO! My name is Cinella and I can't believe I'm 28, happily married and have two beautiful girlies and one on the way, you can read my
Pregnancy Journal
here. I also have weekly posts like Menu Plan Monday, Green Tip Tuesday, share recipes and an the occasional review/giveaways! I blog and mystery shop while hubby goes to college. We live with my mother and she helps us with gas money. Times are tough, but what else is new? God has always provided. We use cloth diapers (disposables some nights) and use coupons to save as much money as possible. If you'd like to save money also, I share coupon deals for my two favorite stores (HEB & Sprouts), so be sure to stop by on Tuesdays (sometimes Wed.) to check that out.
How do you try to save money?
You can check out my
Facebook
Page,
Twitter
,
Youtube
to mingle and chat usually any time and look forward to mingling next Monday!
Oh! And check out my latest giveaway
HERE
and another BIG "Cash" Giveaway coming SOON!
==============================
Join our

1st

ever Blog Hop for Moms. Moms show off your blog and connect with new followers. Great way to increase your audience and traffic. NO RULES just please follow each host and leave a comment so they can follow back! Enjoy Mom's Monday Mingle! Feel free to grab our button and help promote our hop! Spread the word. The more at the mingle the better!
Link up and meet your hosts!
1. http://naptimeshopper.blogspot.com/
2. http://www.athometake2.blogspot.com
3.

Www.littlebeckyhomecky.com