To join these blog hops just click on the icon
or on the links provided.... thanks!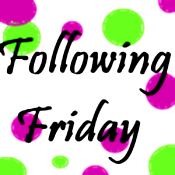 And as always, today we have another question for you:
Smooth or crunchy peanut butter?
Crunchy!! But I love to make peanut butter cookies during the holidays!
The RULES to join in Freindly Friday Follow are very simple!
Grab the button above. Visit as many other blogs as you canFollow the ones you like (and comment on their blog to say that you are following)
HAVE FUN!
Co-hosted by
Crazy about My Baybah
,
Family and Life in Las Vegas
, and
The Balancing Act in Stilettos and Scrubs
. This hop is about meeting new friends and finding fun blogs to read. So link up, grab our button, and
BEE FRIENDLY!!