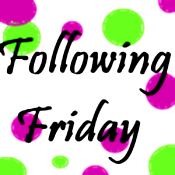 *NEW*
Each week we will be selecting one blog at (who follows the rules below) to be the Blog of the Week and will be listed in the #4 Spot!
Here is how you can join:
1. Link up your blog URL on Mr Linky.
2. Follow the Hostesses ( and leave a comment so they can follow you back).

3. Grab The Following Friday button and paste it somewhere on your blog or in a post.

4. Follow as many blogs as you like and when they follow you, follow them back.
(leave a comment on their blog so they can follow you back)
~~~~~~~~~~~~~~~~~~~~~~~~~~~~~~~~~~~~~~~~~~~~~~~~`
For those of you new here, it's very simple.. the only rule is:
no rules
!! That's right!! This blog-hop is supposed to be a boost in our blogs' asses... friends-wise:)!!
So just make sure you link with us,
follow us as the host
(and leave us a comment so we know you follow us and return the love back:) and then feel free to follow whoever you want to, leave nice comments,
send them love notes and chocolate boxes
*WOW scratch that last part:P* and don't forget to do the happy dance!
If you join with us on Boost My Blog Friday, please take your time and leave a comment, so we know you're participating with us and maybe pay you a visit:) Thanks!
And as always, today we have another question for you:
Pro or anti Valentine's Day?
I'm neither... I just love to get together with my girls and have a night out with Hubs... it's just like any other weekend.