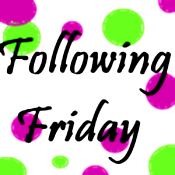 What do you guys prefer: TV comedy series or comedy movies?
Only shoes we watch now are How I Met Your Mother, The Big Bang Theory and sometimes Outsourced. My favorite comedy movies are the oldies like The Three Amigos and Farris Bueller's Day Off!
The RULES to join in Freindly Friday Follow are very simple!
Grab the button aboveAdd your link to the list belowVisit as many other blogs as you canFollow the ones you like (and comment on their blog to say that you are following)
HAVE FUN!