I got an email from Nathan Engels aka MrCoupon asking me if I would help promote their affiliation with Operation Troop Aid! DEFINITELY! I replied. So today I usually post #CTWW along with any deals from my local grocery store, but instead I will share with you how you can help and support our troops. WeUseCoupons.com is "
Uniting to Get 1,000 Care Packages to Our Troops
!" I am getting a Flat Rate Box together NOW and I hope you will to! I'm going to be sending organic granola bars, cloth wipes and other "green" items that they can re-use! I also just saw a post from SAPsMaMa about a mama with a 20 month old who's Daddy just left overseas and they both miss him so much. Ohhh, my heart aches for all those families who have to live without their loved one for several months or even years on end. They are so brave! A Care Package can mean so much to them and I'm sure that we can surpass the 1,000 mark with ease!

I'm so excited to announce that WeUseCoupons is officially partnering with Operation Troop Aid in February and March!!! Operation Troop Aid is going to be sending 1000 boxes to troops in Afghanistan & Iraq and is looking for help filling those boxes! Lacy and I are personally donating $10,000 in product but need tons of help to fill the rest of the boxes!!


Operation Troop Aid was started in 2005 by Mark Woods. Earlier in 2001, he was deployed on the USS Enterprise
during the 9/11 attacks and watched with his shipmates as the second plane struck the World Trade Center. During that deployment before 9/11, Mark served as the coordinator for a concert on-board the USS
Enterprise
by Country Artist, Chad Brock. Soon after the attacks, Garth Brooks wanted to have a concert on their ship and Mark was assigned to coordinate that event. After that, Mark was inspired to use the entertainment initiatives for charity! Operational Troop Aid was born and Mark has worked tirelessly to send over one million dollars in care packages or product to the troops stationed overseas!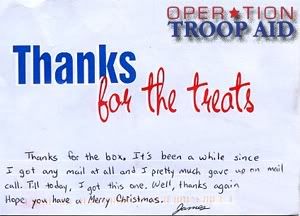 God works in mysterious ways sometimes. I found out about Operation Troop Aid from a cashier!! I was chatting with her in line about some charities we support and she told me about OTA; isn't that crazy!?!? I then called Mark and he has a Memphis, TN number but lives 20 minutes from me! I had lunch with him and am very excited to start helping his organization help our troops!

So what can you do?!?! Well we are looking for product donations! If you live in the Cincinnati area, I will personally come and pick the product up!!!! If you live outside our area, we ask that you ship what you can to this address:


WeUseCoupons.com/TroopAid
c/o Nathan Engels
90 Alexandria Pike
Suite 19
Fort Thomas, Ky 41075
Here is a list of products that Operation Troop Aid needs:
Beef Jerky
Toothbrushes
Body Wash
Shampoo (Mainly Men, but some Women's)
Razors
Any Individually Packaged Bars - ie Fiber One, Nature Valley, or Breakfast Bars.
Baby Wipes
Ziploc Bags
Hand Sanitizer
Nutter Butters
Now-or-Laters / Skittles / Sweets/Candy in General
Peanut Butter
Popcorn
PopTarts
Batteries (aa, aaa, c, d)
Drink Mixes (very hot item b/c overseas they have coolers full of bottled water everywhere.)
Current Magazines (mens health, people, readers digest, ect)
Puzzle books (suduku or puzzle books)
-shell peanuts

Fun items:
-frisbies, silly string, bubbles, nerf ball, brain teaser toys, hacky-sac, playing cards (skip bo, uno, pictureka, ect), poker chips, stress ball, electronic handheld game,
-coloring book w/ color pencils (chris and the guys he works with loved these to relax them and pass the time).
Anything that is small but would be considered a treat!
We will be accepting donations until March 15th
Fill a Flat Rate Box and Send it!!!


Write a note in the box with your name, return address, and the retail value of the donation and Operation Troop Aid will send you back a donation receipt.

If you can't give product, please consider giving a donation directly to Operation Troop Aid.
The donation will go to help cover the cost of shipping!
ATTN TEACHERS:
We are also looking for teachers!!!
If you are a teacher, please send me a private message!!
We are looking for encouraging letters from school kids!!
I will give you all the information, and even call you!!
Thank you guys for your support for this project!!
We will be doing contests and giveaways to promote this!!
We really believe in this cause!

Bloggers and Readers, please post about this on your blog or Facebook pages!!!