Excuse me but I'm a little... been busy with ABE and what not!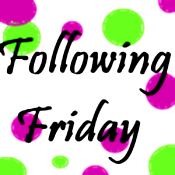 *NEW*
Each week we will be selecting one blog at (who follows the rules below) to be the Blog of the Week and will be listed in the #4 Spot!
Here is how you can join:
1. Link up your blog URL on Mr Linky.
2. Follow the Hostesses ( and leave a comment so they can follow you back).

3. Grab The Following Friday button and paste it somewhere on your blog or in a post.

4. Follow as many blogs as you like and when they follow you, follow them back. (leave a comment on their blog so they can follow you back)
~~~~~~~~~~~~~~~~~~~~~~~~~~~~~~~~~~~~`
For those of you new here, it's very simple.. the only rule is:
no rules
!! That's right!! This blog-hop is supposed to be a boost in our blogs' asses... friends-wise:)!!
So just make sure you link with us,
follow us as the host
(and leave us a comment so we know you follow us and return the love back:) and then feel free to follow whoever you want to, leave nice comments,
send them love notes and chocolate boxes
*WOW scratch that last part:* and don't forget to do the happy dance!
If you join with us on Boost My Blog Friday, please take your time and leave a comment, so we know you're participating with us and maybe pay you a visit:) Thanks!
And as always, today we have another question for you:
What would you like more to receive on Valentine's Day: a chocolate box or flowers?
I personally really don't care for Valentine's Day, probably because of my memories of it! But putting that aside, I love chocolate but I'd really just love a gift from their heart. Like a favorite book I've been wanting or a nice soft bathrobe to keep me warm after a bath, maybe a personalized mug or something like that. Ohh, I've really been wanting a purse hanger or book mark. But Hubs isn't going to read this so.... oh well! :D
~~~~~~~~~~~~~~~~~~~~~~~~~~~~~~~~~~~~~~~~~~~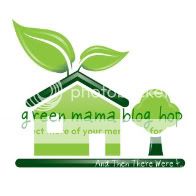 Welcome to the 2nd week of the Green Mama Blog Hop!
Please only join this hop if you deem your blog as 'green'. It doesn't matter if you are a beginner or if you're a pro.. this Green Mama Blog Hop is for you!
My goal is to have more and more people join each week! But that can't happen without your help. If you could please post the button on your blog, as well as in a post, that would be great! Thanks so much for your involvement! I want us 'Green Mamas' to befriend each other and be there for questions or support.
--------------
Each week, there will be a fifth, Featured Blog to be followed as well. To qualify to be the Featured Blog, you will need to participate in all of the guidelines. I will pick one at random from all qualifiers. I will email you the Monday before the Hop, if you are chosen.
MANDATORY:
* Add your blog's home page to the Linky list! I will be monitoring the blogs to make sure we only have 'green', family-friendly blogs involved.
* Follow the 4 hosts, Featured Blog and the blog ahead of yours. Make sure to leave comments on each of the blog so they can follow you back! The more you follow, the more will follow you back!
OPTIONAL:
(You don't have to do these to enter the hop, but you must do both to qualify for the Featured Blog position)
* Grab the new Green Mama Blog Hop button and place it on your home page.
* Put the button into a post on your blog. Then leave a comment on this Hop post with the link.
This hop will open each Tuesday night and will be open all week. It will start over each week, so keep coming back each week to enter!
Welcome to the Green Mama Blog Hop! Enjoy!