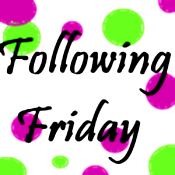 Hosted by
Let's Just Give It Away,
Made♥ By♥Jess,
And Then There Were 4,
Buzzing The Day Away,
For those of you new here, it's very simple.. the only rule is:
no rules
!! That's right!! This blog-hop is supposed to be a boost in our blogs' asses... friends-wise:)!!
So just make sure you link with us,
follow us as the hostess
(and leave us a comment so we know you follow us and return the love back:) and then feel free to follow whoever you want to, leave nice comments,
send them love notes and chocolate boxes
*WOW scratch that last part:P* and don't forget to do the happy dance!
If you join with us on Boost My Blog Friday, please take your time and leave a comment, so we know you're participating with us and maybe pay you a visit:) Thanks!
Now that the Holidays are over what is one thing you're looking forward to next?
Valentines Day! Usually Hubs doesn't have nothing planned, it's just a day of relaxing and spending time together, which for the most part is like any other day. Ohh, and my birthday is coming up to, but nothing spectacular about that, right!

Welcome to Fun Follow Friday hosted by
Simply Stacie
and
My Wee View
. The goal of this hop is to get new Google Friend Connect Followers, if you like my blog, leave a comment and i'll follow you back!