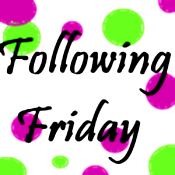 Fourth week following this blog hop... thanks to all the new followers.
I hope ya'll stay a while and give some comment love on all my new posts.
Have a wonderful Friday!
If you want to participate in Following Friday
just visit
Let's Just Give It Away
and follow this weeks
Blog of the Week
I usually do make a resolution and keep it through the whole year. Last year was to spend more time with my Hubs! And I'll say we've gotten closer. We had date night and we even went on vacation! You can see my current resolutions
HERE
. I hope I follow through with these!