Only a few more days till "A Blogtastic Extravaganza!" I just wanted to give a shout out to all of my sponsors. They are just some of the awesome sponsors and they're offering some awesome products for next weeks EXTRAVAGANZA! Keep reading to get some extra entries for next weeks giveaways!
(hosted by
My Silly Monkeys
)
The Mommy Blog's theme is "MOM." Prizes are estimated over and include household items to beauty products that a MOM can use everyday. The prizes are also green and most home-made. Please visit us from January 18th through the 22nd to enter! I will also have a linky to all the other bloggers participating so be sure to come back to enter all the amazing prizes!
Here we have Valerie from
My Big Fish Designs
(click to her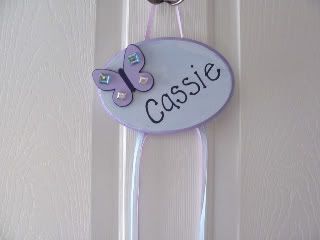 Facebook page). She makes home-made Hairbow Holders, Name Plates and a new product, custom hand painted totes! You all know I love totes. I've always wanted to make something hand-made, but being a MOM I don't always have the time. Thanks to Valerie she has some awesome designs at affordable prices! You can see some of her
custom
work and see what she has in stock at
DiaperSwappers.com
! This one is my favorite.... stay tuned for the big event on the 18th to find out what you can win from Valerie!
Facebook:
http://www.facebook.com/pages/Big-Fish-Designs/132913446764048
---------------------------------------
Next we have a product that I am happy to share with everyone. I've already been talking to my friends and family about it! It's from an awesome product (do I use the word awesome too much?!) from
Reuseit.com
. They have these new bags,
Bio Bags
. I have to say, if you haven't heard of
ReUseIt
team you've got to check them out. I know I've been trying to lower down my trash bag usage. I haven't bought some in the longest time. But take a look at all the different options they have in
reusable bags!
ReUseIt.com has a great offer for ya'll! It includes a word I absolutley love.... FREE! Make an order (domestic only) of $25 or more and enter the code, "MOMMY," at checkout to get FREE shipping.
-------------------------------------------
Are you tired of buying paper towels? Today, I haven't used a
regular paper towels in years. I've been using face and hand towels. But since I found out about these I am so excited to offer them to ya'll! (Review coming next week) One of my readers will win a 4-pack of
Sky Cloths
. Besides this being a reusable product I also love that they were invented by two stay-at-home moms living in Encinitas, California.
"Our children have begun Elementary school and we have a little extra time. We decided that this would be the perfect time to start our business. We have such passion for this cloth because we believe that it is the best thing out there."
Another reason is because they give back. You can contact them for
fund-raising
opportunities for school, church or for your organization. Not only are you raising money but you will be helping fundraisees
Go Green
! Check out the links below to find out more about SKOY!
Buy:
http://www.skoycloth.com/index_files/shopping.htm
Use&Care:
http://www.skoycloth.com/index_files/usecare.htm
Facebook:
http://www.facebook.com/pages/Skoy/34885431393?v=wall
Twitter:
http://twitter.com/#!/Skoycloth
----------------------------------------------
Then we have a great new product that I heard about at one of the groups on in at
CafeMom.com
. Steri-Bottle. The main thing that I love about this product is that it's 100% recyclable. What do you do with the bottles when you're done with them? Do you ever think if you can recycle them. The bottles from our first born we donated to a friend in need, but a lot of families just throw them away. Steri-bottles is a well known product from the U.K. and actually one of the top selling baby bottles over there! That says something, doesn't it. You can now find Steri-Bottles at CVS.com or you can buy them from
Babies 'R Us
! Another plus is it's made of safe Bisphenol-A (BPA) and phthalate free plastic. Here is some more facts from
SteriBottle.com
Convenient anytime, at home or on the move, there is literally nothing like it for taking the time and stress out of bottle-preparation and giving you an extra bit of your life back…

Perfect for the 3 a.m. feed
Ready for immediate use when you are pressed for time
Ideal for trips or in the home
100% recyclable and BPA free

Steri-bottle is designed with care in the UK and manufactured with pride near Chicago Illinois.

You can find out more about Steri-Bottles
HERE
and go through their FAQ's.
Website:
Steribottle.com
Steri-Bottle on
Facebook
Twitter:
http://twitter.com/#!/steribottle
Buy:
http://www.toysrus.com/product/index.jsp?productId=4070695
Let me tell you.... these are just some of the sponsors for The Mommy Blog's "MOM" Event! How exciting. These product alone are almost $40 in value! Again, I just want to say thank you!
Now for the extra ENTRIES! As for the event, the entries are going to be short and simple, I wanted to give ya'll a change to get some extra entries.
~~~~~~~~~~~~~~~PLEASE READ~~~~~~~~~~~~~
THESE EXTRA ENTRIES ARE ONLY VALID IF YOU DO THE MANDATORY ENTRIES WHEN THE EVENT STARTS ON THE 18TH!
ALSO, THESE ENTRA ENTRIES ARE OPEN TO ENTER FROM TODAY TO THE 18TH AT 11:59. So you have one extra day to enter the extra entries.
*********8AFTER THE EVENT STARTS THE ONLY EXTRA ENTRY YOU CAN GAIN IS TWEETING ABOUT THE EVENT*********
For the Extra Entries:
Include your email in each comment!
Include the "#" sign in each comment!
Include links (twitter) in each comment!
(I will be checking each entry)
1. Which product do you want to have?! - 1 entry

2. "Like" each sponsor on Facebook (links above) - 2 entry for each "like"

3. Follow each sponsor on Twitter (include @name) - 2 entry for each follow
((BigFish doesn't have a twitter account))

4. Tweet about the event can be done (5 times a day/1hr apart) - 1 entry per tweet
***TWEETING CAN BE DONE FROM TODAY THROUGH 1/22***

"#Win 1 of 3 prizes valued over $100! Visit

http://tinyurl.com/69dydnv

4 extra entries till 1/17. @cjrTheMommyBlog #ABE, 1/18-1/22! Pls RT"
5. Purchase an item from one of the sponsors - 5 entries

6. Why do you love being a "MOM"? - 5 entries

The winner will be choosen via Random.org for each prize package on 1/23 via random.org after I put together all of the extra entries and mandatory entries together. I will verify the entry and then contact the winner via email. Only one winner per prize package. If the same winner is picked I will pick again! GOOD LUCK TO EVERYONE & ENJOY!
If you have any questions please let me know!