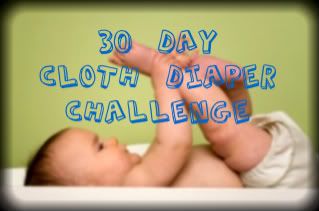 Welcome to Day 21 of the Cloth Diapering Challenge. The previous posts can be found
HERE
. This Diaper Challenge came about when Natalie Del

Conte

did a segment on Eye on Parenting on CBS. She got bombarded with comments and accepted the challenge to try cloth diapers for 30 days. You can view her blog
HERE
as she has a few posts about how she's doing. I will be posting, trips, stories, pictures and more about cloth diapers as she goes through the challenge. I also hope to help, influence and bust some myths about cloth diapers for other families out there.
Emily's Story
:
Last but not least we have Emily. She's from Lawrenceville, Georgia area and has been married for 6 1/2 years.... Hey Emily me to! I have two girls and she has two boys. Her boys are 3 and 19 months old (here's where we get off track, my girlies are 6 and 20 months, close though, right?!). As you may imagine, those little ones keep her busy but she won't pass up a chance when she's able to help other realize that being green is "fun, easy, and affordable."Don't believe her? You can read more about her and her blog:
Mommy Made Green
. She's so passionate about it that she now owns her own company called
Mommy Secrets
. Mommy Secrets is awesome. I will become one of their "Green Consultants" some day....... *dreaming* The best part is that it's FREE to host your own Green party. So be sure to check out both her blog and website.
Both her boys wear diapers, however, her oldest only at night! Wow... I need to talk to you about that later Emily! lol So she had the two of them in diapers and decided to start using cloth diapers when her eldest became allergic to the chemicals in disposable daipers. They were forced to use very expensive chemical free disposables and they found themselves spending over $150/mo on them. Holy Cow! Thank good-ness they found cloth diapers. But at first she had no idea what cloth diapers were so it hadn't even crossed her mind. But then thanks to other moms who were displaying their diapers at a babywearing workshop she learned about the other options.
So when asking if Emily knows anyone who uses cloth diapers? "I do now!" So thanks to word of mouth and cloth diapering mamas going out of their way to educate and inform other families about cloth diapers we can save families tons of money, especially families like Emily's who were forced to use these expensive Cloth Diapers. And those poor babies who are allergic to different chemicals in sposies they think they have no other choice than to buy those expensive ones.
What was your first Cloth Diaper purchase? "A sample pack from an online diaper store." I wish more online retailers had the "Sample Pack" available to purchase. You can visit KellysCloset.com for more selection on packages and you can even create your own custom sample pack. There are so many different options for new cloth diaper families that way they don't have to spend tons of money on one types/brand of diapers.
Which is your favorite diaper & why? Emily has soooo many. "If I had to pick just one I would probably go with Happy Heinys." She loves that they are made in the USA on moms sewing machines, that is pretty cool. She's also in love with their hemp inserts and a whole bunch of their other products. Some honorable mentions include Knickernappies, Bummis and other mama mades.
Does your family support your decision to Cloth Diaper? "My husband was the one who wanted to cloth diaper before I had even made up my mind, due to how much money it would save us." That is the coolest thing I've ever heard, I will definitely tell other moms about your hubs! lol And Emily also doesn't care what the rest of the family thinks about her cloth diapers usage. They got to use them when her family babysits. Way-to-go Emily. She gives them no "opportunity to be unsupportive."
What would you like to tell other families about Cloth Diapers? "They are so easy and fun! And disposable diapers leak, stink, and leave residue all over my baby's bum." I know what you mean.... I went to a baby shower today and the mama got a diaper genie. I think that's the biggest phonney ever! It's such a waste, it made me so angry, but I had to keep my cool. I told the mama about cloth diapers and she seemed somewhat interested but not really. Oh well, better luck next time. Another good point Emily made was, "Once you try cloth you will never go back." You can say that again!
ONCE YOU TRY CLOTH YOU WILL NEVER GO BACK!
What do you like most about using Cloth Diapers? How darn cute they are! there is an overabundance of cute diapers on the market. I love getting their pictures done in them. I have a picture of my youngest in a cow hide diaper with a cowboy hat, holding a stuffed animal cow. It is precious! You are so right Emily.... I have yet to do a professional photoshoot, I just want everyone to see my babies bum!
What is your biggest challenge using Cloth Diapers? "Not buying every diaper that I want! It is addicting!" That is a great answer. I have a good amount of different brands but not enough. Although I can't wait to have a boy so I can get all the cute boy print diapers! I might even start trading now! Don't tell hubby.
What questions do you have for myself or the Cloth Diapering Community? "The one area of cloth diapering I haven't tried yet is wool, I would love to learn more about wool. What are your favorite brands? How easy are they to take care of? What do you use to wash them? SO many questions!
Great questions and answer Emily. Stay tuned this week for the answers to all of our mamas wonderful questions. We will have some guest posts and a video about wool to finish up wool week and Q&A week. There might even be a Challenge giveaway, just wait to see.
Again, thanks to Emily from
Mommy Made Green
for being a guest mama blogger today and be sure to take a look at the other mama posts and give them a helping hand!