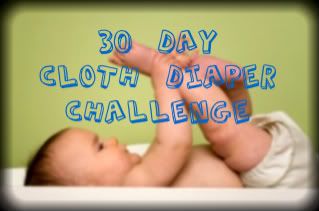 Welcome to Day 20 of the Cloth Diapering Challenge. The previous posts can be found
HERE
. This Diaper Challenge came about when Natalie Del

Conte

did a segment on Eye on Parenting on CBS. She got bombarded with comments and accepted the challenge to try cloth diapers for 30 days. You can view her blog
HERE
as she has a few posts about how she's doing. I will be posting, trips, stories, pictures and more about cloth diapers as she goes through the challenge. I also hope to help, influence and bust some myths about cloth diapers for other families out there.

Jamie's Story:
I found Jamie when I read another bloggers post about what Jamie was trying to get done. SHe was looking for funding for her Cloth Diaper "Awareness" Book. How awesome is that. I quickly jumped on and made a donation to help fund her project on Kickstarter.com. Although it wasn't funded Jamie hasn't stopped trying to raise awareness, learn and educate others about Cloth Diapers.
Jamie is from Portland, Oregon and is "happily committed" with two children. Her daughter has a mild form of autism and dedicates lots of time to helping her out with that. She also has a photo studio in her home where she does her thing to contribute to the family. Of course she is also working on her project that I mentioned earlier, it's called "The Dirties on Diapering."
Jamie started using cloth with her second child and then switched their older child to cloth as well! At first she switched to save money but then learned more and more about disposables and this created a new passion to spread the word about cloth diapers!
What was your first Cloth Diaper purchase? gDiapers with gCloth
What is your favorite diaper & why? BumGenius Organic (now Elemental). I've never had a diaper hold so well! My kiddos are both heavey wetters. These diapers are so easy since they are all in ones! And since the inside is organic cotton, I feel like they wash up much nicer than fleece.
When asked if Jamie's family supports her decision to Cloth Diaper she said "Mostly." She said that they probably wouldn't choose it themselves, that's one thing that I'd like to change as well. We either need to educate or show them how easy and do-able it is.
What would you like to tell other families about Cloth Diapers? Cloth Diapers are so much different than today than they use to be. They are made to be easy! They are made to save you money! And they are made to keep your baby healthy!
What do you like most about using Cloth Diapers? I never run out and have to run to the store to spend $80 randomly every month! I love that I never have to buy diapers again!
Well said Jamie! I haven't boughtn diapers in months. Hubby however, will go out and buy a small bag every now and then, but thank gosh we don't have to buy that huge box ever again.
What is your biggest challenge using Cloth Diapers? My daughter gets diarrhea often, so sometimes it's not fun to clean, however I am trying out some flushable liners for the first time now and am loving it! I can just pull it off and plop any type of poo in the potty.
And Jamie's final question is " Are you getting excited for another round of funding for "The Dirties on Diapering" com January???? "
Oh yeah, I have told some moms at school about it, and although they don't want to switch to cloth they say that they would love to learn more about it and a book would be very handy and adorable to see all those pictures! I've been helping spread the word to others, the other day on twitter I suggested them to the O Magazine and Jamie DM'd me back saying that both O Mag & The Ellen Show were following her on twitter! How awesome is that. Speaking of
following
, Jamie is not just an inspirational person to me but she was awarded an award by Healthy Child Healthy World. What an honor!
Like I've said before, The Cloth Diaper Revolution has begun!
To Read more about Jamie and her project you can visit and follow her blog
HERE
and if you are in the Portland area, you can visit SugarSnapPhoto.com to learn more about Jamie's photography!
Stay tuned this coming week of the Cloth Diapering Challenge!