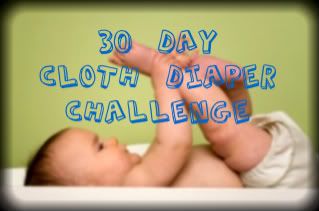 Welcome to Day 19 of the Cloth Diapering Challenge. The previous posts can be found
HERE
. This Diaper Challenge came about when Natalie Del

Conte

did a segment on Eye on Parenting on CBS. She got bombarded with comments and accepted the challenge to try cloth diapers for 30 days. You can view her blog
HERE
as she has a few posts about how she's doing. I will be posting, trips, stories, pictures and more about cloth diapers as she goes through the challenge. I also hope to help, influence and bust some myths about cloth diapers for other families out there.
Heather's Story:
This is Heather from Texas. I to also met heather through Facebook as a newbie. This is her first baby in cloth and he's 5 months! She's married and has two other little ones. Here are a few questions I asked Heather;
Where did you hear/learn about Cloth Diapers? Heathers friend, Erica, told her about cloth diapers and I to give props to Erica because she gave her courage to try it out. It can be such a daunting task to try Cloth Diapers when you have no support. I know it was hard for me. I didn't know anyone that used Cloth. So I'm glad that Heather had that support.
What was your first Cloth Diaper purchase? Heather first only bought flats! I did to. Her friend Erica made her some prefolds so that she could use. (picture coming soon) "They're cute," Heather said. I love that her friend Erica made them from t-shirts and polos. What an awesome idea. That gives it a personal and meaningful touch. I think I'm going to steal Erica's wonderful idea and give that as baby shower gifts! These prefolds are also Heather's
favorite
way to cloth diaper because they are homemade and thick.
Does your family support your decision to Cloth Diaper? "Yes, as long as they don't have to do any changing." Ah yes, the uncles and cousins who hold your baby for a few seconds then once they start to cry they graciously hand them back! But really, what matters is that they know why you are doing it and that they do support you emotionally. Maybe even ask them to support you by telling other about it or buying you a diaper for your babies birthday instead of some plastic toy, right?!
Heather would also like other families who may want to jump into the Cloth Diapering way is that it is "relatively easy, can be cheap, and they are almost like an
accessory
!" Which is so true. I see mamas buying diapers left and right. Then they use it, sell it or trade it. Just like we do with jewelry or purses. Great way to look at it Heather. You will never get sick of using the same diaper.
Heather loves to use Cloth Diapers because she knows she's having a positive impact on the planet and who doesn't love Mother Earth? And she also thinks there's "nothing cuter than a cloth covered booty." I love the way that sounds, makes me think of chocolate!
Of course there is a challenge or obstacle to everything we do and Heather has been having trouble keeping the poo inside the diaper. She let me know that she primarily uses crocheted wool soakers, so when they get poo, she has to wash them. That is an excellent question. I know lots more families are trying out wool, as am I, and there are lots of questions and challenges that come with it. They are not your typical cover. So, stay tuned next week when the questions we got from our newbie cloth diaper mamas will be answered!
Thank you so much Heather for wanting to be apart of the
Cloth Diaper Challenge
and letting others know that even when you have little support you have still been able to pull through and cover that booty with cloth! Best of luck to you and your family and I'm sure you've inspired other parents to try out Cloth Diapers.