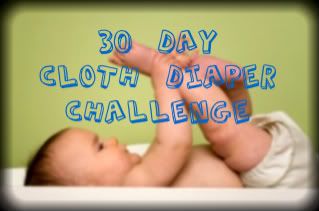 Welcome to Day 18 of the Cloth Diapering Challenge. The previous posts can be found
HERE
. This Diaper Challenge came about when Natalie Del

Conte

did a segment on Eye on Parenting on CBS. She got bombarded with comments and accepted the challenge to try cloth diapers for 30 days. You can view her blog
HERE
as she has a few posts about how she's doing. I will be posting, trips, stories, pictures and more about cloth diapers as she goes through the challenge. I also hope to help, influence and bust some myths about cloth diapers for other families out there.
Tina's Story:
This is Tina's story. She lives in lovely Anchorage Alaska. She's single and mother to six wonderful children from ages 14 to 1 1/2 years, 4 girls and two boys. That is a hand full, wouldn't you say. She actually has 3 children in cloth diapers and this is the first time that she's been trying out cloth diapers. And she was actually suggested to use Cloth Diapers from her 'gram' because she wasn't able to breastfeed. So her 'gram' thought that using Cloth Diapers might be a similar way to bond with her new baby. ((GREAT IDEA)). So she suggests to other families who have been in the same boat as her to try out cloth diapers. That would definatley create some unique experiences with your baby as you both will be trying out cloth diapers together!
She doesn't know anyone else who uses Cloth Diapers in her area. So lets show her some love and support! The only other person that she knows is her 'gram' who used them way back in her days! Her family think it's pretty 'neat' that she uses cloth diapers.
Tina has already bought some Cloth Diapers and her first purchase was Kushies, which I have never tried. She has only been using this brand of diapers so doesn't want to say that she has a favorite and is very eager to try more. Come on CD companies, if you want to convince Tina to try out your diapers send her some samples!
And Tina just can't say no to "The cuteness" factor that Cloth Diapers offers.... Way To Go Tina! There are so many adorable diapers out there. I especially love the ones that match perfectly to your babies outfit, no?!
One of my favorite question for Tina was What is your biggest Challenge using Cloth Diapers: "Limited in finding any locally." Come on Alaskanians, is that how you say that, get with the program. I'm sure there is a huge market for cloth diapers in your area, especially wool diapers. They will keep your little ones warm and you can wash and dry them by hand so you don't have to waste more electricity on washing and drying. Am I right?!
Last but not least Tina has a great question when it comes to Cloth Diapers:
Is kushies the only fastest one out there? Im not likin the idea of stuffing and covers?"
That is a great question because when someone is new at cloth diapers they might not get all the information they need up front. So we will get to that question next week Tina in the Q&A portion of the Cloth Diapering Challenge.
I greatly appreciate Tina in taking the time to tell us about herself you can give her support by adding her as a friend on
Facebook
. That's where I found her and we have become friends! Oh and one other thing, she loves a good giveaway, so if you got any send the links her way!