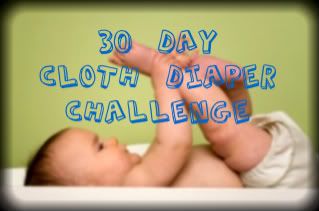 Welcome to Day 16 of the Cloth Diapering Challenge. The previous posts can be found
HERE
. This Diaper Challenge came about when Natalie Del

Conte

did a segment on Eye on Parenting on CBS. She got bombarded with comments and accepted the challenge to try cloth diapers for 30 days. You can view her blog
HERE
as she has a few posts about how she's doing. I will be posting, trips, stories, pictures and more about cloth diapers as she goes through the challenge. I also hope to help, influence and bust some myths about cloth diapers for other families out there.
I will be featuring a new mama everyday this week who is willing to share their story about why, how and when they started cloth diapering. I already have a few lined up but I still need mamas to share their story. So if you are interested please email me at vetsmom_rgv(at)yahoo(dot)com, Subject "Diaper Challenge Story." Spread the word... If I get more than enough I will squish your story in to include everyone! You can send your blog/facebook/twitter links as well. Your story can include pictures or any information, tips, video that you'd like to share with my readers.
I was talking to my aunt the other day and she said that she thinks that other families, mamas, may be afraid to start because it may look daunting and they think they are the only "newbies" out there. Well, in the past week alone I've found two mamas who I feel like I'm already getting to know them and they just starting to CD. I'm sure if we lend a helping hand and show them they are not alone they will be able to transition into cloth much more easier.
So even if you've CD more than enough little ones, please come share your Cloth Diapering Story!