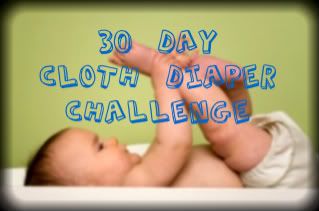 Welcome to day 4 of the Cloth Diapering Challenge.... Today I will talk about $$$$. Well, not how much you will spend, but how much you will SAVE! Yes, save!
There are so many different ways to save throughout your whole journey of cloth diapers. You can get new, never used cloth diapers for FREE!
"HOW?", you ask?
Well the first thing is GIVEAWAYS! That is how I won my first cloth diapering detergent...
Rockin' Green Detergen
t (and I've stuck with that ever since). That is also how I won about 5 of the diapers I love and still use today. Take a look at my blogger friends, they hold giveaways almost daily. Then I also love the link-ups because you get to see all the other great products that you can learn and maybe even win!
Another way is by all the different REWARD programs out there. After a few weeks, maybe months, you will know which diapers you love more and you can research which stores sell them, which stores give you more points and/or which ones sell them cheaper!
Of of my favorite ways also is to go through Diaperswappers.com or other mom websites like CafeMom.com and find some cloth diaper moms who are willing to sell/trade or make you some cloth diapers for a great price. I myself have about 3 mama made diapers as tester for, so I bought these at a discount and then provided them feedback and pictures so they can make the required changes or enhancements.
Then of course there is always freecycle, craigslist and ebay where you can also find NEW and/or USED diapers, again, at awesome prices. I received my first set of prefolds and fitted diapers for FREE via freecycle.
Don't forget holiday sales! Now at Kelly's Closet you receive double the Diaper Dollars with every purchase! A great way to find out about these great sales is to sing up with the retailers newsletters. Also Facebook & Twitter hold lots of secrets and coupon codes that are occasionally tweeted or shared.

Speaking of Tweeting... do you like to party? Have you tried a Twitter Party? They are so awesome and you get to meet retailers and other cloth diaper moms, bloggers and make friends. Here to you can also win great prizes.... So keep an eye out for those. It may take you some time to get a hang of it, but it's so worth it.
I've done some research for you.... here are some of the most popular cloth diaper retails who offer REWARDS!
I also have another great deal. If you are looking for a great Christmas present, or just a thank you to a fellow Cloth Diaper mama, Diaper Junction is giving away $5 FREE with every $20 Gift Certificate purchase! They carry a wide variety of cloth diapers and accessories. A great gift for a new mom! Visit
DIAPER JUNCTION
today to see what you like (and earn rewards too!)