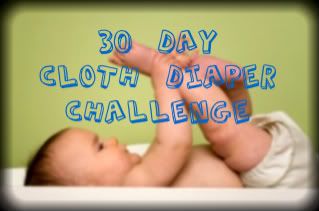 Here we are on Day 2! I decided to give you some factoids about cloth diapers and maybe debunk some myths that are up in the air today about them.
I REMEMBER - Throw out the window about what you remember about cloth diapers. Weather your mother used them on you or you saw them being used or heard stories about them. I mean even if you choose to go old school (which I did use prefolds and flats for my newborn), we now have some awesome covers to go over these prefolds. And with newborns you usually don't need a prefold. When I first brought home my baby I changed her like after every feeding or more, so you don't have to worry about leaking through the prefold. But I'm getting off topic... Look at these....


Dunk n Swoosh - Gross! Even I wouldn't do that (even though I have). I mean really, would you want to dunk your adorable diaper in the toilet? If you want to go all fancy, you can purchase a diaper sprayer and you will have to hold the diaper over the toilet. Or like me, you can just use your shower head. Lots of moms have different ways of getting the different kinds of poop out of the diaper and some ways don't even including getting so close to the poop. AND another interesting fact... did you know with disposable diapers you are suppose to get the poop out and dump it in the toilet too??


Are they wet yet? - This is my biggest pet peeve of all. Yes, it is amazing to see those videos that show how much liquid a disposable diaper can hold, but it grosses me out as well. I always hear sposie families ask, "But don't you have to change them more often?" The answer should be, "No." Because you are suppose to change them when they've wet or soiled themselves. With cloth diapers your baby will feel when they are wet and yes it's not very comfortable, but they don't have those chemicals touching their lil tooshy. Think about it. You can always use a non-absorbent liner to keep your baby dry, but please still change him.

The smell - They smell just as much as disposables. I used disposables with my first and let me tell ya. If I had one wet diaper in the nursery I knew it! We didn't have those genie diaper pails they use now, which looks like a vault for diapers. Try smelling that thing! Now I keep a wet bag in the nursery, a wet bag in the diaper bag and a wetbag in the laundry room. The only time I will smell a stinky stench is when I dump them in the washer. I can keep 3-4 in the nursery before I start to smell something and that can easily be fixed by using some natural odor removers.


One Diaper costs $15! - Let me tell you, I have never bought a diaper that costs over $15! Although there is some that do cost that much and more... but because I am also a penny pincher, I would never. Yes, they might be cuter, yes, they might have more features, but they do the exact same thing. Even if you did buy a more expensive diaper you would use it for about 4-6 months. One large box of diapers costs about $20 and that only has about 100 diapers which would last you 10 days if you changed your lil one as often as you should. So lets say 5 months you buy the large box at $20 every 10 days that's $300. And with the cloth you would have to buy about 10 diapers so that's $150. You've already saved half! AWESOME!


I don't want to prick my baby - Yes, some moms still use diaper pins as did I in the beginning because I wanted the diaper to fit nice n smooth. But it is pretty easy with a new born because they don't move as much. Then a father invented the SNAPPI! They come in all sorts of colors and are super easy to snap in place! They make the regular size and the toddler size as well. They usually don't get dirty so you don't have to buy a ton of them. I only have 3. It's a great alternative to the diaper pin.


What if I run out? - Wash them. The amazing thing about cloth diapers is that you'll never run out. You'll never find yourself having to run out at midnight because you're run out of disposable diapers. You'll have to get dressed, waste gas, get to the store, haul that box or bag around and everyone is starting at you! But lets say you do run out... you can always use an old t-shirt and a snappi to keep it in place!


Don't they cause just as much damage to the earth? - I don't know... you tell me!

This is the gdiapers flushable liner. It's not cloth, but with disposables this is what you are doing. With cloth you get to reuse and reuse until it's worn and torn, all you got to do it recycle it or find another use for it.


I hope you liked my little list.... I could go on forever as to how many complaints or excuses people make for using cloth diapers. For us, it has saved us money and there has not been one case of diaper rash! How amazing is that. I also think she has been more healthy than our first. Other than her check-ups I think she has only been really sick about 2 maybe 3 times... compared to our first that is phenomenally less.