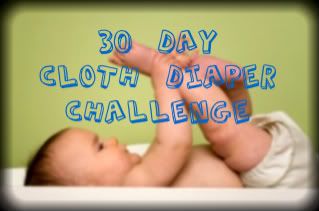 Welcome to Day 17 of the Cloth Diapering Challenge. The previous posts can be found
HERE
. This Diaper Challenge came about when Natalie Del

Conte

did a segment on Eye on Parenting on CBS. She got bombarded with comments and accepted the challenge to try cloth diapers for 30 days. You can view her blog
HERE
as she has a few posts about how she's doing. I will be posting, trips, stories, pictures and more about cloth diapers as she goes through the challenge. I also hope to help, influence and bust some myths about cloth diapers for other families out there.
My Story:
My name is Cinella, and no I'm not named after anyone, my mom just made up my name and I love it! :D I am 26 years old, I think, and I am married to the love of my life. I have
two wonderful monkeys, I mean daughters, lol. 6 years old, who I did not cloth diaper because I didn't know they were still around, and a 20 month old who is way different than the eldest, who I cloth diapered since she was about 5 months old. I live in a small town in way way way south Texas, about 15 minutes from the Mexican border. I love to reuse things and be as green as can be but there isn't much support down here and I still get weird looks when I "wear" my baby.
Why Cloth Diapers: Well, it first came about when I started blogging. I
started blogging to lose weight, I joined ediets and then found the blogging world. I was losing weight because my doctor called me fat and I wanted to have a second child. After losing 20 lbs I was pregnant! Then my father in law past away, my husband lost his job and my then 4 year old was starting school! So I found support and then I found cloth diapers! We would save money and be eco-friendly.
Do you know anyone who uses Cloth Diapers: No! I don't know anyone that uses. I did meet two families at last years Baby Expo who uses gDiapers, only because that's what readily available at our local Babies 'R Us.
What is my favorite diaper: ALL OF THEM! Prefolds, AIO's, hybrids. I love them all. We first started using covers and prefolds and then I fell in love with Thirsties, but then I started buying seconds from mamas on Diaper Swappers and we just use them all now.
Does your family support your decision to CD: Yes and no. My
husband will use them and tell everyone about them, and when our family babysits they say they will use the cloth diapers but they always end up using the sposies that we supply them with. Maybe we will stop putting them in the diaper bag. My mother.... won't put them on her. But she does agree that they are adorable and affordable and loves that I use them!
What would i like to tell other about Cloth Diapers: I'd like to tell them that it's not as hard as it use to be or looks. It's not only your babies bum, but it's your pocket book also. I see lots of families buying the cheapest diaper because they are expensive. If you can't afford a whole stash of cloth diapers then just buy a few or ask for help, like the
Cloth Diaper Foundation
. And there is support out there, just ask.
What do you like most and what is your biggest challenge with Cloth Diapers: I love that we are not contributing to that massive poop pile in our cities dumping grounds! I absolutely love that. And what I find most challenging is that I can't always have my babies fluffy bum exposed at all times so that everyone can see it! It does get cold and hubby likes her to be in an outfit that somewhat covers her bum, lol.
I hope you all enjoyed my cloth diapering story. Please email me if you'd like to be featured this week along with other mamas who are new to using cloth diapers. We all just got to stick together!