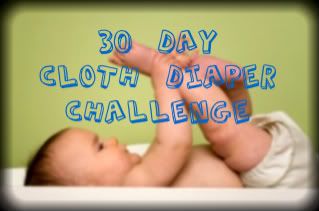 Welcome to Day 15 of the Cloth Diapering Challenge. The previous posts can be found
HERE
. This Diaper Challenge came about when Natalie Del

Conte

did a segment on Eye on Parenting on CBS. She got bombarded with comments and accepted the challenge to try cloth diapers for 30 days. You can view her blog
HERE
as she has a few posts about how she's doing. I will be posting, trips, stories, pictures and more about cloth diapers as she goes through the challenge. I also hope to help, influence and bust some myths about cloth diapers for other families out there.

They are just so adorable! Today I just wanted to talk about cuteness!
Yesterday while shopping I was at Gymboree and a mama with a newborn asked me what is that? I had pulled out my diaper bag to give Eli a snack (fiddle sticks) and a cloth diaper popped out. I told her what it was and she was just amazed as to how "cute" it was. I also told her that it saves on money and decreases the amount of disposable diapers we throw into the garbage. I told her she should check out some mommy blogs to see about getting more information. She was kinda interested but, again, she was just amazed as to how "cute" they were now-a-days. So I admitted that they are adorable and that I love to get all matchy matchy and get so excited when I find a diaper or a little dress that will go just perfect with a diaper or vice-versa.
I so wish that I had business cards so that I just quickly just pull it out. She did say that she would tell all her friends, so that's good. So, with one little cute fluffy butt we can save other paper butts!
How can you say no to adorable babies in adorable diapers. There is nothing to lose!