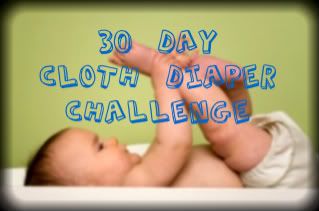 Welcome to Day 12 of the Cloth Diapering Challenge. The previous posts can be found
HERE
. This Diaper Challenge came about when Natalie Del

Conte

did a segment on Eye on Parenting on CBS. She got bombarded with comments and accepted the challenge to try cloth diapers for 30 days. You can view her blog
HERE
as she has a few posts about how she's doing. I will be posting, trips, stories, pictures and more about cloth diapers as she goes through the challenge. I also hope to help, influence and bust some myths about cloth diapers for other families out there.
I hope everyone had a great holiday! I know we did. We really didn't have any plans set in stone and then we heard that the dinner plans were canceled so I ended up putting together a Thanksgiving dinner in under two hours for just us (hubby, kids and my mom) and it turned out great! We also visited our grandparents house and just wanted to share some pics with ya'll. The first one is the diaper that my grandma put on here... And yes, it was hot on Thanksgiving... but a cold front came in later that evening and the last pic is my girls in their winter get-ups!
And how did everyone do with their challenge? I had my grandmother, Eli's Great-Grandmother changer her diaper! She had lots of opinions. She said (in Spanish) that she wishes they had these when she was raisiing a family, but then she also said that she'd probably lose her mind trying to put the snaps together! She got the hang of pins a whole lot faster.
So another advantage of cloth diapers is keeping their bum warm during these winter months. Like I mentioned before wool diapers keep cool during the summer and warm during the winter! Awesome.