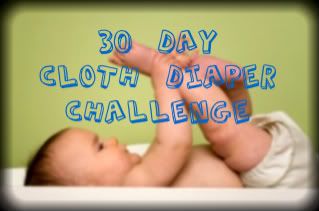 Welcome to Day 11 of the Cloth Diapering Challenge. The previous posts can be found
HERE
. This Diaper Challenge came about when Natalie Del

Conte

did a segment on Eye on Parenting on CBS. She got bombarded with comments and accepted the challenge to try cloth diapers for 30 days. You can view her blog
HERE
as she has a few posts about how she's doing. I will be posting, trips, stories, pictures and more about cloth diapers as she goes through the challenge. I also hope to help, influence and bust some myths about cloth diapers for other families out there.
This week I want to share some information about other types of covers that you can use with cloth diapers. Covers are usually made out of
PUL
(polyurethane laminated fabric). But some find that covers made out of
PUL
may not be as breathable as natural fibers but
PUL
is breathable.
Wool
: The first type is wool. Many cloth diaper families shy away from wool because it's a natural fiber and it has be special care instructions or may thing it's a hot and itchy fabric. There are lots of horror stories out there. Like I said, it's the only cloth diaper cover composed of all natural fiber. It's
also
antifungal
and is absorbent. It's also not itchy and very breathable and will keep your baby cool in the summer months and warm in winter. I live in Texas so wool will probably be perfect for us. ( I too have never used a wool cover before ).
Wool is also not waterproof, they are water-resistant. Untreated wool can absorb more than one-third its weight before it feels wet! That's pretty awesome, no?! Because of that it's loved by families who use it at as a night time cover. It's also great for night time because your babies body temp is maintained so your baby doesn't get hot nor lets bacteria grow, which is why babies get diaper rashes! Yeah, one of my favorite reasons I use cloth diapers.
About taking care of your wool... that's another post! But it really isn't all that hard and it will be a great addition to your cloth diaper stash!
Fleece
: Then there's fleece. Fleece is not made of 100%
natural
fibers. It's made out of polyester. The way that they make fleece cloth diaper covers is where it will wick moisture away from the skin to it's outer service where it will evaporate or absorb into
anothe
r fabric. When the urine is wicked away from the babies skin it also allows the fleece to cool during that process. Lots of families also prefer fleece over wool because it does not have the added bulk and
weight
.
You also have to look at the type of fleece. Polar Fleece is a high quality product and one that has been used since the 1970s. The brand that is most loved and used is
Malden
Mills. You can use other brands but they say that lesser quality fleece varieties won't do the job as well. It will be cheaper to make your own covers or liners, so it's all up to you.
What about caring for fleece? It's much more easier, just throw it in with your diapers and your golden. Easy
peasy
!