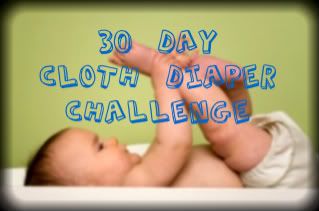 Here we are at day 10... I'm watching Daddy on Board right now... lol! They are hilarious, but not my kind of hilarious, even though I'm laughing. Anywho... they were talking about Natali's journey with her little baby, Miles, and his bum! lol. If you wanna check out the podcast go to
Daddy on Board
.
Speaking of daddies I just wanted to say, "Daddy's back up your wives!" Support is key when one of your spouses is passionate and tries to pursue a new venture. Let me tell you, my husband supports me even though he doesn't like cloth diapers, or so he says. He loves to tell other about them and likes how much money they have saved us. Yes, he still does go to the store on his own sometimes to buy that bag of disposables. He uses them on Eli when she goes to bed sometimes. It infuriates me but it's not that big of a deal. I love that he will put a cloth diaper on her on his own now! lol He use to only touch the AIO's, which are still his favorite, but he will grab a prefold and cover. How cool is that. And then she comes out of the room with a toddler size prefold and a huge bum and walking funny, looks simply adorable. I still catch him putting sposies in the diaper bag when we're going out for the day and he knows I don't like that.
I hoped that he would right a post about how he feels but he's not that kind of dad. He did watch some how-to videos when I had first started using cloth diapers and I guess that educated him on how sposies effect our environment. Now... I just have to get him to like babywearing! lol
I hope everyone has a great weekend. We are going out of town to spend time with family and we're going to go have breakfast with Santa! That should be fun... So, I'll be back Monday with Day 11. If you have any stories, tips, photos that you'd like to share during this challenge, please contact me.