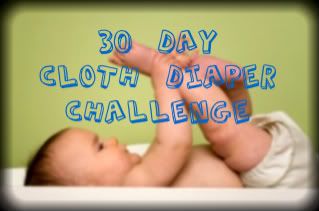 This post doesn't need an introduction... Mrs. Natali Del Campo got quite a response when she did a segment on CBS Eye on Parenting segment, "
Diaper Wars: Cloth vs Disposable?
" and the guest she had on was not very knowledgeable about cloth diapers because she used disposables and didn't show the new modern and fashionable diapers, but she did mention that they have the snaps and Velcro ones. I did like that she did mention sunning, which is ones of my favorite ways to get rid of stains! I must first apologize to
Natali
because there was so many scary posts on how poorly the segment was done.
Because of the response Natali accepted this
challenge
that was thrown at her to try out cloth diapers for 30 days. I'm sure she will be flooded with samples and gadgets to help her through these 30 days.... I wonder what the end result will be! There was also some talk about it on
Daddy on Board
, which her husband is on... hilarious I must say.
So many bloggers have started and will follow Natali through these 30 days Calley from The Eco Chic will be posting tips and she has motivated me to do the same. My goal is not just to help out Natali but to get the word out on how easy, fun, eco friendly and money saving that Cloth Diapers is and see how many we can convert over to cloth diapers.
Some info about me.... I have only been cloth diapering for about 15 months but I am so glad that I will be using the same cloth diapers for our future children... I plan on having four more, and hubby wants only two more. And maybe we'll have to trade our pink ones for some boy-friendly ones, but if we have girls, great!
This ends Day 1 of the 30 Day Cloth Diapering Challenge. Check out Natali's post about how her first day went HERE. Stay tunes tomorrow for Day 2!


For a little fun I have included one of my favorite music videos about cloth diapers....