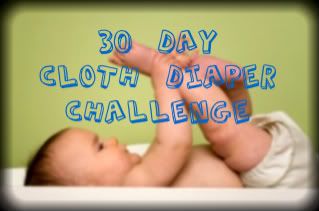 Let's be real! When we start our cloth diapering experience with your baby you need to be real. It WILL be very scary and you will probably want to quit, I know I did. You are there late at night changing your baby's diaper, you forget something or aren't as organized as you wanted to be, it will be overwhelming and with all of your emotions of having a new baby to take care of that will play a role as well.
So take a breath, relax, have someone that will support you, give your girlfriend a call...
YOU CAN DO IT!
On this day two of the "30 Day Cloth Diaper Challenge" I wanted to talk about travel, not vacation travel, but just going to the supermarket travel. I know I totally freaked out when I knew that I had to go do our "showing off" of the baby. I was like, "OH MY GOSH!" I quickly panicked and through like 50 billion diaper covers and prefolds (which is what I was using at the time), but I forgot wipes! In reality... it's not that hard at all. I actually think it's less hassel than if you were to use sposies, I'm not lying!
What you will need for a trip to town (less than two hours):
Diaper bag (medium size)
Three AIO/Pocket diapers OR two covers and three prefolds
10 cloth wipes (I ALWAYS pack 10, they are great to clean up any other messes)
Wipe solution

Small wetbag

THAT'S IT!
You can multiple this for every two hours you think you might be away from home.
What you'll need for a longer trip (whole day):
Diaper bag (large size)
8-10 AIO/Pocket diapers OR 2-3 covers and 10 prefolds
20-25 cloth wipes
wipe solution
Enzyme solution
Medium/Large wetbag
Changing pad
THAT'S IT!
I will explain what all the diaper accessories are in the days to come (Enzyme solution will cut down the waste and the smell). Also, after a few months, maybe even weeks, you will know when your baby makes a poopy. Mine goes between 8-10pm everyday. If she goes more than that I know she's coming down with something. So it maybe a good idea to pack some inserts (I just folded hand towels and placed a pattern of fleece over them and voila). Speaking of ill... if you know your baby is ill, you will probably have to change him a few extra times, so pack accordingly.
And a little tip... when I get home I always pack new diapers for the next trip so I don't forget anything. I'm known for being late, lol!
I've also included another video... I love videos and I think they are lots of help, especially for newbies... when I first got my moby wrap I'd stay up till 1am watching how-to videos!