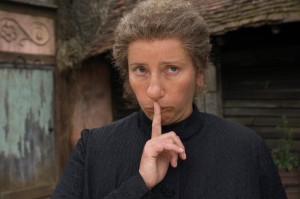 Nanny McPhee Returns (In Theaters August 20, 2010) is coming soon! This weekend. School hasn't started for us and we've been planning to surprise our 6 year old and going to be taking her to go see it as a last days of summer surprise! We just adored the first one. Not only is it a great action-packed movie, but it also has lots of great lessons to teach children. They don't make many movies like this anymore.

In Nanny McPhee Returns, Emma Thompson is still the nanny and appears when she's needed the most and wanted the least. This time around the now Mrs. Green is trying to run the household as father is at war and two cousins have moved in. See how Nanny McPhee teaches them five new lessons. Watch the movie to see why she appears this time around!

Watch the "Nanny McPhee Returns" Trailer
: http://www.nannymcphee.com
I am also writing this post as part of a Twitter Moms contest to win a $50 Fandango gift card! I am going to share some lessons we try to teach our lil girlies, ages 6 and 1 1/2. First off, the age difference. Our 6 year old is very polite and knows how to use her manners with strangers and elders and the 1 1/2 year old has been a challenge and our 6 year old tries to teacher, which reinforces what we taught her! It's so adorable and wrong! lol Here are a few lessons we try to instill on both girlies, in no particular order:
Don't chew with your mouth open! How ever old or young you are, it's not only disgusting but rude!
Say please, thank you, your welcome, excuse me and after you!
No running!
Eat your vegetables!
Say, "I love you" before anything.
To see more lessons you can go to
http://nannymcphee.twittermoms.com
, and see what others have to share. You to can share your lessons. You have until September 15, 2010 to submit your entry.
Full terms and conditions are posted for your review at
http://nannymcphee.twittermoms.com/terms
.
Thank you for reading my post. And before I end this post.... best of luck to all the families who are returning to school and to the mothers and fathers who have to return to war and have a hard time keeping the family in order. Go on over and see the movie to get some laughs!
"I wrote this blog post while participating in the TwitterMoms and Nanny McPhee Returns blogging program, making me eligible to get a $50 gift card. For more information on how you can participate,
click here
." (make sure to link to:
http://nannymcphee.twittermoms.com/about
)