Oh boy, I was so excited when I was notified that I won a January Out Of The Box Sampler. One, what mom (or anyone for that matter) doesn't like to win things? Second, my birthday is in January, so Happy Birthday to me! When I read about
OOTBS
I thought it was such a great business. You can go to their website and buy th
eir box and you get a whole bunch of samples from great handmade items, from jewelry to food! Anyone can buy a box (or win one) and when you receive you box you get discounts when you order from the businesses and you get entered to win next months sampler box, how cool is that?! (February's box giveaway is already ended).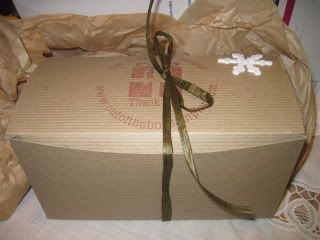 So this whole month of February I will review a few items and since Valentines is just around the corner I thought I'd start with the homemade treats that I got in my January box.
I got three treats in my box and guess what! They were gone that same day... I so regret not taking pictures first.... they were soooo good, ask my five year old.
I received:
Peanut Butter Cups from The Bees Knees Bakery dipped in milk chocolate
Peanut Butter Ritzy Prissy Pretzels from Ritzy Reasons
Pretzel filled with chocolate, mint and white chocolate from RhodaRose
Let me be honest and tell you that they were all DELICIOUS! The one that went first was the peanut butter filled... only cause I like peanut butter. And they were way better than the name brand ones. Hats off to
The Bees Knees Bakery
. If you visit the site today you can click on the Request Custom Item to see if you can get some inftime for Valentines day! You can see that she's recently sold some Dark Chocolate Brownies that look oh soo yummy! So if you have a brownie + dark chocolate lover in your life, head on over to the
Etsy shop
today!
Then we head on over to
Ritzy Reasons
where I
received the Pretzel Rods, which I found out are the best-sellers! And good
Reason
too... they are only $3.99 per 3-pack. What a steal. Oh and guess what else, they are double dipped! Yikes (I think they are having a 2-fer at the gym)! And you can add toppings. One of mine had oreo cookie crumbs on it, my daughter lundged for that one, lol. Each made fresh with gourmet ingredients by hand, to guarantee the best quality and taste. Take a look at her website to see the other yummy treats, including a gift basket for only $25.99.
Last, but certainly not least... RhodaRose Hand dipped chocolate treats! My daughter and I shared this one. It was a pretzel that was filled with three different chocolates. Personally, I love the sweet and salty combo and each chocolate was soft n silky, not hard like other ones. Another thing I liked about it was that it wasn't a tiny pretzel, it was a bigger size (but not jumbo). Perfect size, I'd say.
So thanks to Out of The Box Sampler (January 2010) for the box and the great hand-made treat businesses.
To buy February
Valentine's
sampler boxes click
HERE
.
If you would like to contribute to March or April's box
CLICK HERE
.