This week's Fluff Talk Thursdays post has to do with how we store our diapers. I have tried so many different ways it's rediculous. I love to recycle and i had been storing the diapers (prefolds) in a regular cardboard gift boxes. But then I recycled them! haha. Anyways, the baby stays in our room. I moved an old shelf that we had in the bathroom into our room so we could store all her baby things (diapers, detergent, wipes, lotions and what not). It's kinda tight, but everything fits good.
I keep the covers and AIO's ontop where I have the changing cushion and wipes and I have all the prefolds stacked by size on the bottom shelf as well as the inserts.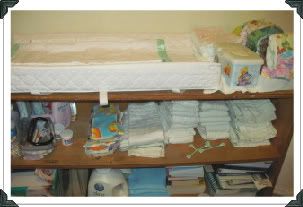 I like the shelf I use because it's nice n sturdy. Sorry, I was washing the cover. But the cover I made myself. I made it from a water proof pillow liner and I sewed on a pretty fabric I found on sale at Hancock Fabrics for $2.00. I have my cloth wipes inside the printed huggies box. I like this box because it squeezes out some of the excess liquid when I put too much water. I also dump out some water every night and add new warm water the next morning. You can see the diapers next to the wipes, those are the ones hubby usually reaches for. I got them from WAHM's and diaperswappers. More great deals. I like using the prefolds. I have them on the second shelf as well as the inserts, which I use as wipes some times. Then I have all my other baby accessories. On the bottom shelf I have some of my books, my Planet detergent, extra diaper bags and hubby sometimes likes to use pampers sensitive wipes.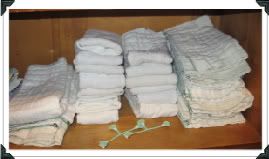 Here are my prefolds. I have my newborn prefolds on the right. Thinner medium size prefolds in the center and my toddler size prefolds on the left. I have a good stack, but some of the toddler ones were in the washer. There are my snappies. I only have two, hubby lost my other ones. Grrrr!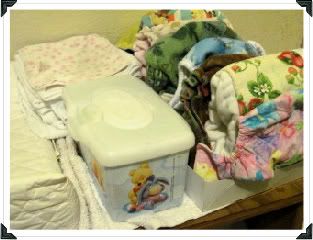 Here you can see my wipes box and some extra wipes. Then I have my covers, AIO's and fitteds in a gift box. I've been trying to find a good deal on a nice wicked or bamboo basket at the flea market.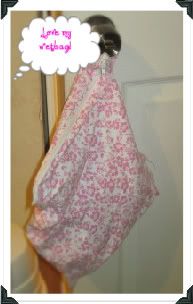 An extra picture of my wet bag. I got this one from a mom on Cafe Mom! Thanks. It's used lots.
So as you can see... I mostly use covers and prefolds. I don't feel that I need to store them in any special way. They stack very easily. I do sometimes hand a peice of fabric over them. Like I said they are in the master bedroom. So sometimes I like a clean look.
If you are looking for a way to store your diapers I would also suggest asking friends and family if they have any extra basket or containers that you can use. You can store your diapers in there to make them look more appealing than I do. If you buy some the best place to find great deals are at the dollar store and garage sales! We saved tons by just using a shelf we already had. We didn't have to go out and buy a changing table. It's nice and sturdy and wide enough for the changing cushion.
Thanks for reading my post for Fluff Talk Thursday which is hosted by Beth at
Happily Domestic
.