Today is December 1st! How crazy is that. Boy this year has gone by so fast. Today we also took down our Christmas tree from the attic. Tomorrow we're going to clean up and move furniture around to put it up. We realized that we need to buy new lights. Boy they aren't so cheap this year. So we decided that we wouldn't even buy any this year and save a bit of cash.
So, today I am going to offer you one tip or actually a challenge.
DO NOT BUY ANY CHRISTMAS DECORATIONS THIS YEAR!
We've done this a few years, and not because we wanted to, but we did not have the funds to do so. We used the reusable tree that my mom gave us and we did not put any lights we just used the ornaments that we made. We made paper ornaments from recycled newspaper and hubby made some paper mache ones as well. And remember those paper ring things we use to make in elementary? We made those too. And if you want to add some color use
natural paints
. It's so fun making them. Same thing with the glue. Just water and flour!
How about outside decorations? Look for some spare wood and cut a circle and paint a christmas tree or use each circle to write "Happy Holidays" or what not. If you want to add some festive cheer around the house I'm sure you have some candles somewhere, wrap then with some fabric or even wrapping paper.
If you must buy some new lights this year, try out LED lights. They use 90% less energy than regular lights and that is awesome! Yes, they cost more, but you can use them for 5 years plus. I saw them for $5 at K-Mart this week.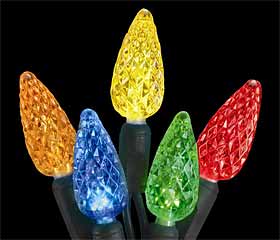 So, what do you say? Up for the challenge?
STAY TUNED: This month I will have a few guest bloggers who will share their Green Tips this holiday season!