Boy, I just finished eating a Chicken Terriyaki Bowl from Jack-in-the-Box! Yum. It was what I needed. I would ask hubby to go get JITB about 3-4 times a week when I was preggo with baby No. 2. Boy was that fun! Tomorrow I'm planning on going out for a jog anyways.
This week I have links to giveaways for all moms in every stage of motherhood! From pregnancy to getting ready for baby, for baby and toddlers. Enjoy
1. First we are all invited to celebrate with
A Mother's Boutique
on their first
Anniversary
. There is a new giveaway each day! How cool is that. There are giveaways for preggo mommies including adorable nursing tops, invites and even a breast pump! So head on over to see if you win some of those awesome prizes.
This one below is ending this week! The rest
don't end till towards the end of the month. Good luck!
Annee Matthew Maternity & Nursingwear – TWO Nursing Tops Giveaway – ends 10/17/09

2. The next giveaway is being hosted by My Household Junk, a long time blog on my blogroll. This is a giveaway you can use for yourself or to give as a gift. She is raising awarness this month for Breast Cancer Health. She plans on having 4 giveaways and this week's giveaway is a Breast Cancer Awareness Charm Bracelet. Head on over and enter her giveaway.
CLICK HERE
. Giveaway ends
3. Now to get ready for baby. After I did all my buying, trading and cleaning I washed all my baby clothes. But what about you? Janette over at
Found Not Lost
has offered her review of Cheer Bright Clean Detergent and is also giving away a bottle! You can use this detergent to wash some of your clothes so you can keep your clothes looking "Bright & Clean."
Click here
to enter. Giveaway ends Nov. 5.
4. Don't you just love buying cute little blankets for your baby to find that you don't even use half of them... well, I know I don't. We live in Texas, so most the time, we only use the thin ones to keep the mosquitoes away! But when we do use some I like to use cotton or knitted blankets. Emi over at The Cloth Diaper Report is giving away a
SHI SHU BABY™
they are made out of Organic Bamboo, which makes them super soft, antibacterial and breathable. This one ends in a few days, so hurry to get yourself a chance to win! Click
HERE
to enter.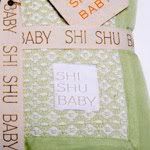 5. If you are going to be going out an about and don't want to be hauling around that darn stroller... check out this next giveaway hosted by Kim @ Dirty Diaper Laundry. She's giving away a baby sling from Rockin' Baby. I so want to try out these new "Ring-slings," plus they look so stylish. She has multiple ways to enter to win one, check it out
HERE
! This giveaway ends Oct. 20.
6. Here's a diaper review & giveaway also from
TCDR
(Emi). I've been using Thirsties Diaper Covers and Duo Wraps but haven't tried their AIO or Fitteds, so it would be awesome to try this one out and even better to win one! I like thirsties because they are solids, and it's much easier to match a solid color rather than a diaper with a print. Emi gave a positive review for it, so head on over and check it out. If you don't win I suggest looking through
Thirsties
Outlet to see what great deals they have on the fitted and other products. Click
HERE
to enter. This giveaway ends on October 19th. Here's a pic of the DuoWraps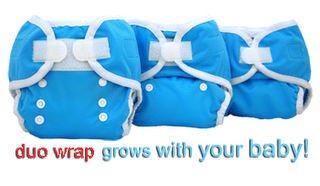 7. What else do we have here... Ah yes! A baby product that I am becoming obsessed with... Baby Legs! I love them because most can be worn from infancy to toddler and beyond! Kim @ DDL is givingaway a pair of baby legs & matching socks! Yeah! Like always, Kim gives us many ways to enter and this giveaway ends on October 23rd. If you are excited to pick up a pair of Baby Legs you should take advantage of this deal. Use code "Punkin" when you buy one pair of
Seasonal Baby Legs
, and get another pair free! This is good Oct 8-21.
CLICK HERE
to enter.
8. Check this new baby feeding bowl, plate, saucer, whatever it is. I think it's so hip n happenin'.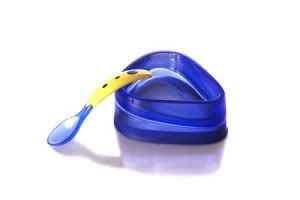 This is another giveaway from Kim from her "
Mama Needs This
" blog. The baby dipper will help with those tough feedings. Read more about it and enter the giveaway
HERE
. Giveaway ends Oct 16th, Good luck!
9. Then you will want to go shopping with your baby and accidently run into an old friend and show off your baby... who is sucking on that awful, dirty shopping car handle. Ewww. But luckily Happily Domestic is giving away a shopping cart cover from Generation Baby. There is a wide variety to choose from.
You'll find everything from rich damask prints and bright polka dot patterns to organic cotton and bamboo.
Giveaway ends Oct 23rd.
Click here to enter
.
10. Last, but not least. How about for those days when you want go with a stroll.... you'll need a stroller. This stroller is only 15lbs and can hold babies up 50lbs! Again, Happily Domestic has reviewed the latest stroller from "Jeep," Jeep Wrangler Unlimited G-Edition. This looks like an awesome stroller. This giveaway ends October 31st! What a great way to end a busy night of trick-or-treating with the kiddos! Click
HERE
to enter.