Review of Kashi All Natural Chicken Rustico Pocket Bread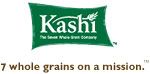 Morning! Many of ya'll might now that I'm a couponer and when I got the Kashi Mailer filled with coupons I picked out the ones I thought we be a great deal as well as great tasting. Boy was I right. I was able to buy two packs of Kashi Chicken Rustico Pocket Bread for around $2.00! I had tried other Kashi foods and thought they were fenomenale because of their ingredients and green factor as well as price. Check out this detailed picture from
Kashi.com
. Doesn't it look yummy?
That weekend when my mom took the kiddos out to the park and hubby was still asleep I jumped at my chance to try them out. Each box contains one pocket bread and they only take 4 minutes in the microwave. I opened up the box and popped it in the microwave. Four minutes late it was pipping hot, there was still a warm area in the bottom of the bread. I turned it over and microwaved it for a minute longer. When I opened it up a smell I have never smelled before filled the kitchen. It was like a Thanksgiving dinner smell, not sure how to describe it. Some of the filling was spill out from the top of the bread. I took it out of the microwave and the bread was soft, not soggy or hard. I cut it into four pieces and this is what I saw:
Not quite what was on the picture, but you can see the dark greens, which is the spinach. It was a beautiful color. I could also see the roasted red peppers and the crinimi mushrooms, YUM!!
Cost
: Affordable: Kashi accacionally has coupons, so you can get an even better deal! Can be expensive if you buy for the whole family, best for individual lunch.
Preparation
: Easy, Open the package, no need to defrost. Put it on a microwavable plate and you are done!

Cooking
Time
: 4 minute recommended microwave time. I gave it a minute longer to have it heated all the way through.
Nutrition
: Great. With Kashi being known for using 7 whole grains and healthy for you I did not like the first thing I saw on the label; 300 calories per serving. One serving is one pocket bread. Other than that, it only has 70 cal from fat and has other great nutritional benefits.
At least 10 grams of protein

400mg of ALA Omega-3
At least 4 grams of fiber
Zero grams trans fats and no preservatives

Texture
: Bread was soft and filling was cooked thoroughly and had a gooey, chewy bite to it. After recommended cooking time, the bottom of the bread was warm, so I heated it an additional minute.

Taste
: Taste was different and a bit on the salty side. You could taste every ingredient and the bread was like it was homemade!

Smell
:
Excellent. The aroma that the pocket bread gave was very different to any other frozen bread items I had ever bought. It smelled like I had made it from scratch, it had a homemade smell.

Absorption
: Excellent. This product should not be that absorbent because the bread should stay bready not soggy. This was the case. The filling steamed in the bread, but did not make the bread soggy.


Green Factor
: All of this Kashi product can be recycled.
They now package their foods in 100% less packaging, which equals 227 less packaging waste each year! Plus their packaging can be recycled!
Overall
: Large
I give the Kashi Chicken Rustico a overall rating of a "Large" because I had to heat it more than the recommended time and because it is new, unlike anything else I have tasted before, so there's really nothing to compare it to. Great job Kashi!
NOTE
: If there is something that you'd like me to consider or suggest a product for me to review, use the Contact link at the top of the page or leave a comment here. I will get back to you as soon as possible.
Some words from Kashi:
We know you're always looking for new and easy ways to incorporate delicious all-natural foods in to your daily routine. That's why we've created three new all-natural heat-and-enjoy Kashi Pocket Bread sandwiches that are not only easy to prepare, but also deliver great taste and true sustenance.

New Kashi Pocket Bread sandwiches are made with our signature Kashi Seven Whole Grains and Sesame™ bread and stuffed with tasty combinations of real ingredients including roasted vegetables, zesty sauces and marinated chicken and turkey. We've taken great care to ensure that each unique flavor provides tastes you'll love, while providing positive nutrition
Look for Turkey Fiesta, Veggie Medley, and Chicken Rustico in the freezer section of your local grocery or natural foods store.